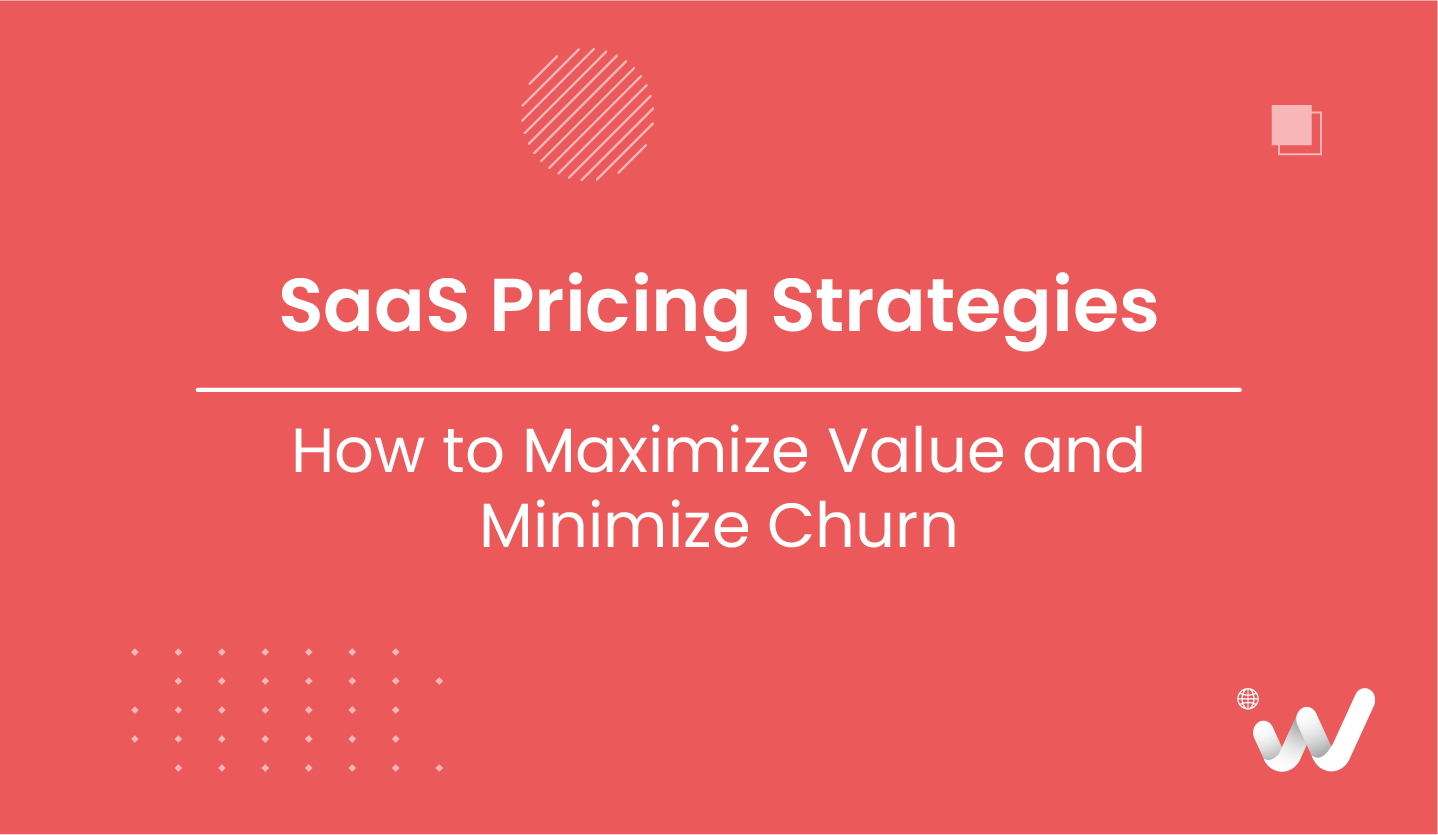 Unquestionably, the global market for SaaS products has exploded in recent years. The business environment has changed how organizations operate their business, from tiny SME end-to-end management solutions to sophisticated cloud services.
According to research by Fortune Business Insights, The global market for SaaS was anticipated to be worth USD 113.83 billion in 2020, with an expected growth rate of 27.5% CAGR, leading to a staggering USD 716.53 billion sector by 2028.
Why is Pricing Strategy Important for SaaS Products?
In 2021, Ph.D. scholars from Lahti University of Technology (LUT) conducted detailed research on the pricing structures of the SaaS Industry. The conclusion was fairly pointed toward the distinctive nature of the industry and its pricing.
To quote from the paper, "When compared to the limited number of existing empirical studies, all of which were published more than five years ago, we can observe and state that SaaS pricing is becoming more and more sophisticated. Most SaaS providers are offering multiple versions, designed and priced based on consumer value metrics".
The study also identifies and evaluates factors affecting the decision-making process and provides rationality for companies' behavior.
Pricing SaaS products using an effective strategy is crucial since it has a direct impact on the revenue and profitability of your business. Your company can raise average revenue per user (ARPU), attract and keep clients, and optimize profits with the help of a well-designed pricing strategy. Whereas a poorly thought-out price strategy can lead to low retention, customer turnover, and financial difficulties for your organization.
Your company can create a pricing plan that supports the achievement of its business objectives by carefully considering the value offer, competition, customer requirement, and cost structure.
Definition of a Pricing Model
A pricing model is a strategy that a business implements to set up the price of its goods and services based on a number of variables, including the cost of creating the good or providing the service, the benefit the good or service provides to the customer, the level of market competition, and the company's overall business objectives.
A pricing model describes how your business charges clients to utilise your software. In the SaaS sector, a variety of different pricing models are commonly utilised, including subscription-based pricing, where your customers can pay a recurring fee to access and use your software. Another one is usage-based pricing, in which your customers can be charged based on their actual usage of the software.
In addition, there are other pricing models like the freemium pricing model, where your software will be offered for free, but with the hope that your customer pays for additional features in the future. Ultimately, the pricing model that you choose will depend on a number of factors, including the target market, the nature of your software, and the business model of your company.
Popular SaaS Subscription Pricing Models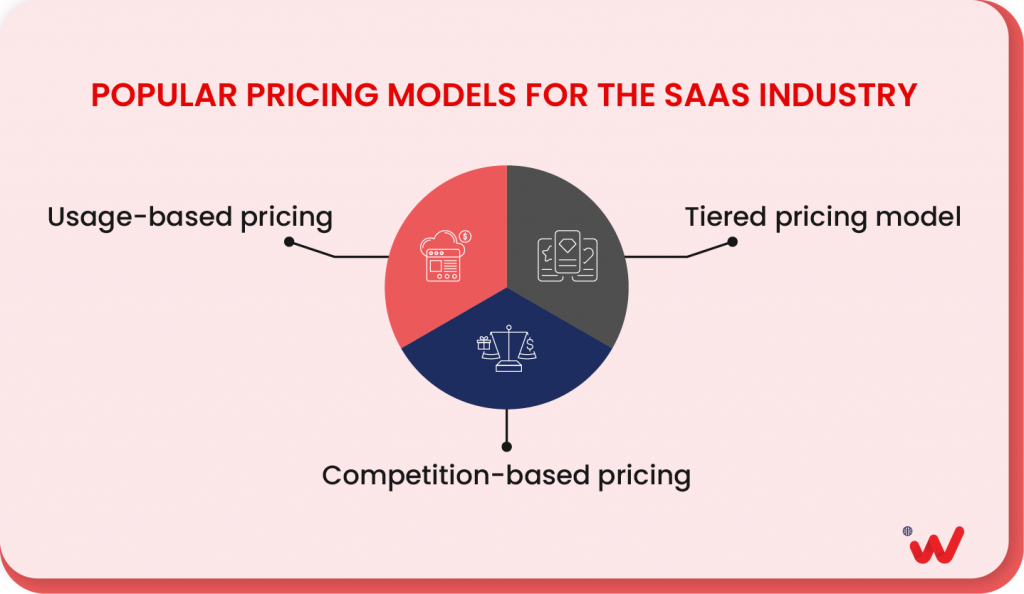 Usage-based SaaS pricing
Usage-based pricing (UBP) is a pricing strategy that enables consumers to pay for services in accordance with the number of features or support they use. Particularly for software as a service (SaaS) companies, this strategy is replacing conventional subscription- and seat-based pricing models.
AWS is the best-case example that prices scalable and affordable cloud computing solutions based on the consumption of their services. Assume you are utilizing 50GB of space on the AWS infrastructure. Typically, you would predict that you will use 50GB and pay for that each month. In cases where you're not utilizing the entire space and only using 50%, you only pay for that 25GB. As your needs change, you can always add more storage.
Tiered SaaS pricing model
Different service or feature levels are provided at various price points, or "tiers," under a tier pricing model. The tier that best suits a customer's needs and budget can be selected. The products can be divided into several pricing ranges according to their feature sets.
These can include:
Basic tier with fewer features at a lower price
A mid-tier with more advanced features at a higher price, and
A premium tier with all available features at an even higher price
Customers can select the service tier that offers the features and functionality they require, then upgrade or downgrade as necessary.
Case in point: Asana
For small teams or companies that are just getting started, Asana's pricing structure is more affordable per user. The majority of tiered software pricing models operate in the other way. They either reserve discounts for larger teams solely or disadvantage the product's lower tiers in order to make them appear more affordable.
Asana's goal was to develop a single premium product with the same functionality for teams of any size while also achieving a smoother price curve as teams increased their usage. Its $10/month per user price has the effect of reducing the per-user cost for smaller teams, which are typically operating on a tighter budget. The distribution of tiers is in line with how teams benefit from the product.
Competition-based SaaS pricing
Pricing based on competition includes setting prices based on elements including competitors' strategies, costs, and market offers. Consumers rely their judgments of a product's value on the costs other companies charge for goods similar to the one they are considering acquiring.
Customers may be turned off if a product is introduced at a higher price since they won't realise afterward that it has been discounted. The secret to gaining new clients is to successfully launch a competitive product at prices close to competitors.
Interested paying users consider the costs of options on the market from both a historical and present-day perspective and then make their purchasing decision.
Case in point: Netflix
The best example is the Netflix streaming service which provides a variety of films, TV series, and other forms of video material. The pricing structure of Netflix, which is based on the prices of competing streaming services like Amazon Prime Video and Hulu, has been one of the main contributing causes to its success.
This pricing strategy's main goal is to stop your customer loss brought on by competition from your rivals. In Netflix's case, it made sure to maintain its position as a market leader and avoid losing users to competing streaming services.
Penetration SaaS pricing
This pricing technique includes placing a product or service's price at an extremely low level in order to quickly take over a significant portion of the market. When a company enters a new market or releases a new product, they frequently employ this tactic in an effort to build a strong market presence and draw in a sizable consumer base.
This SaaS pricing strategy can be used to gain a competitive advantage over your competitors and draw in a large number of clients quickly. This approach can be especially useful if your business is providing novel or ground-breaking services that are not yet provided by your rivals. You can attract clients to sample your service and even make them switch from their present provider by giving reduced pricing.
Case in point: Zoom
Zoom is one company with such a pricing system. It is a platform for video conferencing that enables users to host webinars and online meetings. Zoom's pricing at launch in 2011 included a free version of the platform with basic functionality and a subscription version with more enhanced features at a cheaper cost than its rivals.
This pricing model helped Zoom in gaining a significant market share and a large client base quickly. Zoom was able to convince consumers to try out the service and possibly upgrade to the commercial version by providing a free version of the platform.
Additionally, those who were considering purchasing the paid version found it more appealing due to the low cost.
SaaS Pricing Strategies in Action: Incidents and Case Studies
Let's find out how some of the popular SaaS companies are pricing their products.
Top-Tier Tiered Pricing: Hubspot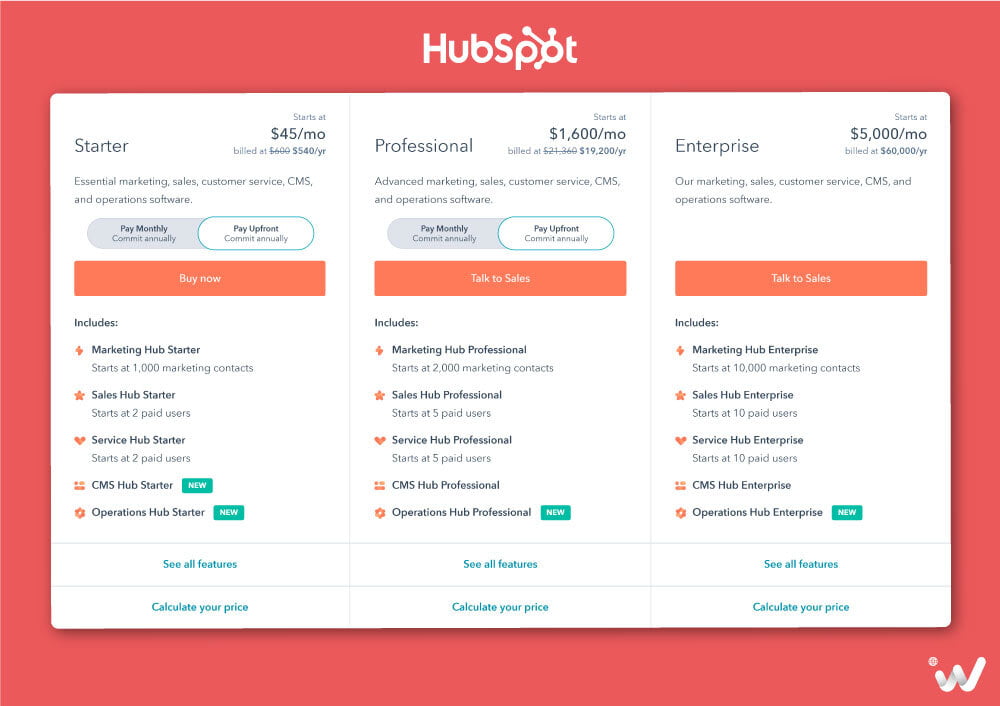 Hubspot is a great example when it comes to gaining your customer's loyalty and creating a product that is tailored, and not one size fits all. It is smartly bifurcated into different categories like Marketing, Sales, Customer Services, and Operations. One benefit of this bifurcation is that clients can select a pricing strategy that fits their needs and budget.
Instead of paying for a generic product that contains features they might not need or use, this type of pricing strategy for SaaS can help your customers choose the exact features and functionality they need and only pay for what they need. Consequently, it can help your company in making savings and avoiding paying for extra services.
Analysis Paralysis/Paradox of Choice: GoSquared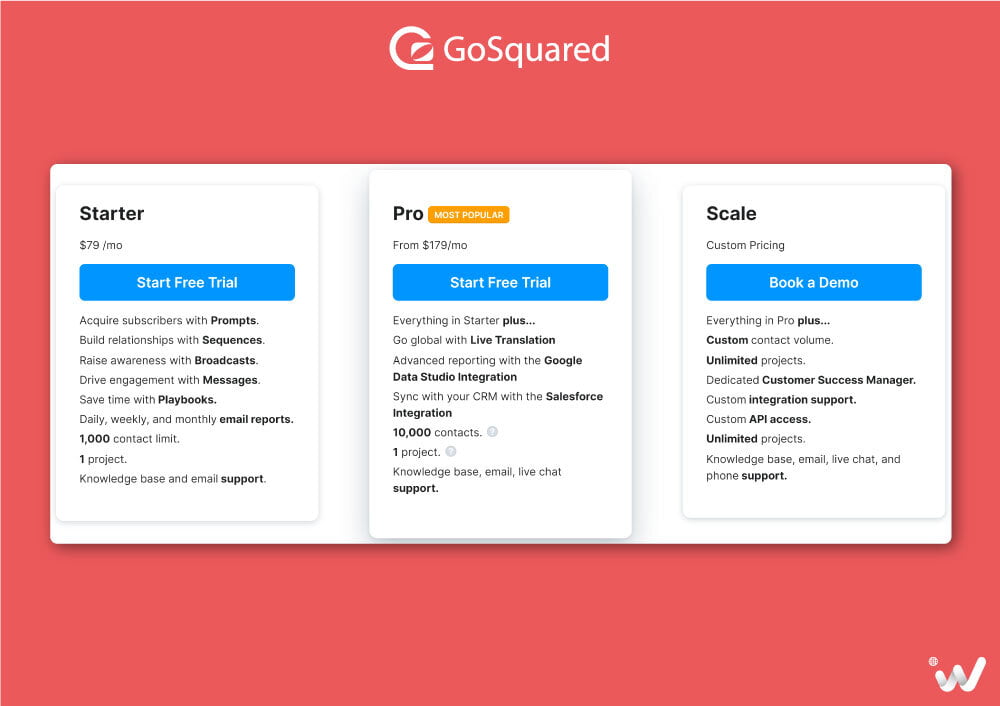 Choice can be tricky and counterproductive for your customers when it comes to decision-making. One such SaaS company that learned it the hard way was GoSquared. GoSquared is an End-to-End growth-oriented software company offering services like a business with marketing automation, live chat, and real-time analytics.
In the beginning, they had multiple concepts to grasp, and customers had to understand a few key terms that were unique to GoSquared before they could even calculate their own price, and then they would require to understand their own usage volume of those metrics. All in all, calculating GoSquared's price was not a simple task if they weren't already using it, and it turned out to be a barrier for new people who were genuinely interested.
Learning from this experience, GoSquared understood the benefit of simplified pricing and adopted easy-to-understand SaaS pricing tiers.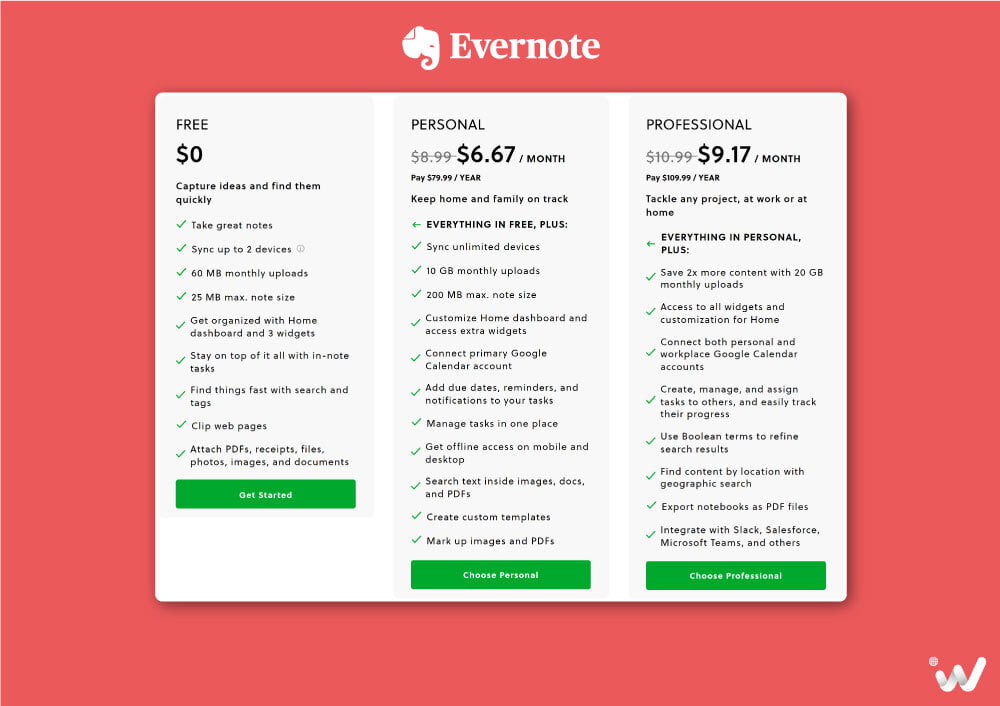 This type of model's main drawback is that it requires your business to have a high enough conversion rate to cover the costs of the free customers who continue to use your service for free. A note-taking application called Evernote stated in 2016 that it would stop its freemium pricing model and switch to a subscription-based one.
Paid subscriptions must provide enough added value to entice your existing customers to really upgrade to a subscription, while the free version must ultimately be sufficient to draw in and keep your users. If the free version doesn't provide enough value, your business won't be able to draw in enough users, and if the additional services don't increase value, your customers won't stick around.
Value-Based Metric: Zapier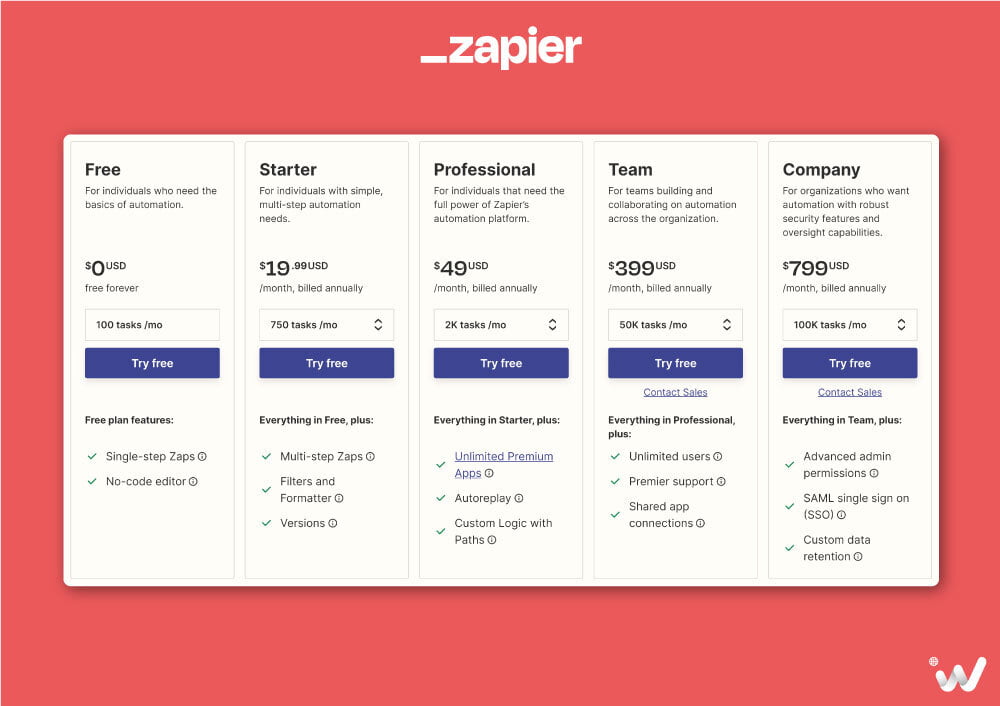 Customers are charged according to the value they derive from the service under Zapier's value-based metric system. In relation to this SaaS pricing structure, Zapier offers various pricing tiers based on the number of Zaps—a term for integrations—a customer can automate each month. Customers will pay more money the more Zaps they can automate.
The reasoning behind this is that as a customer automates more activities, the value they will derive from the service increases, and as a result, so should the price they should be required to pay. The objective and key takeaway is to solely base your pricing on the demands of the client.
SaaS Pricing Best Practices: Finding the Perfect Balance
In conclusion, your SaaS business must consider pricing as a key component. SaaS pricing plans will contribute significantly to your company's ability to bring in and keep customers while also producing revenue. To make sure the pricing plans are in line with the value your product offers and meets your organisation's broader goals, you must consider product pricing carefully and evaluate your pricing models constantly.
There are numerous SaaS pricing structures that can be used for your business, including tiered pricing, usage-based pricing, and freemium pricing. It's crucial to pick the appropriate model and price points that fulfill the needs of your business and its target market.